Interviewing Domaine Rolet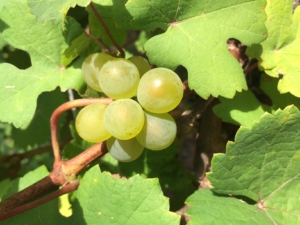 1) How was the weather during the harvest?
Very good weather, only one rainy day during which the team of grape harvesters stopped working.

2) What are the yields:
Loss of 60% of the harvest, mainly due to the spring frost and the non-production of grapes afterwards. The harvest began on 30 August and ended on 13 September.  So we harvested in 2 weeks – half the usual time. There were 55 pickers versus 80 normally, again due to small crops.
3) General impression of the vintage?
Quality wise – very beautiful vintage, very intense red grape colors, excellent maturity. Without a doubt a magnificent vintage that will be difficult to match.
Larger or smaller than last year? smaller
Why ? frost
4) What was the best meal served during the harvest?
Typical dish of Poulard de Vin Jaune with all the grape harvesters, meals in a beautiful atmosphere until midnight. To accompany this delicious dish, we had a Côtes du Jura Chardonnay / Savagnin and then Vin Jaune with the cheese tray.