Interviewing Domaine des Homs
Facebook : Domaine Des Homs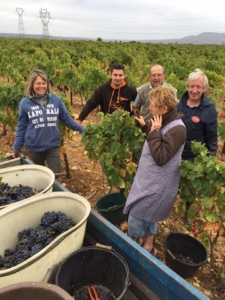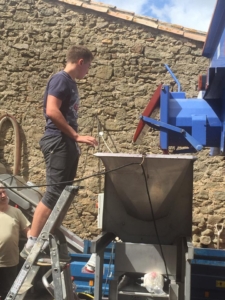 1) How was the weather during the harvest?
After a year of exceptional drought in the 2016 vintage, 2017 promised to be a better harvest after a rainy winter that made it possible to replenish the water reserves, but …. The plants have adapted to the lack of H2o which resulted in a small bud burst, aggravated by a run on Grenache (hot-cold at the time of flowering).
2) How was the harvest?
Larger or smaller than last year? Small yield, the smallest harvest since 1945, exceptional off-season makes this harvest 2017 an exceptional vintage with beautiful color, volume, fruit and balance.
Why?  The chronic lack of rainfall in August did not allow the grapes to keep their weight and contributed to falling yields. The high temperatures during the year and sufficient water reserves until July have contributed a vintage of unprecedented volumes!
3) General impression of the vintage? Chardonnay was picked on 20 August instead of early September. Thanks to cool nights starting at the end of August, the juices are balanced with good acidity, an exceptional health condition has allowed us to wait for the phenolic maturity: anthocians and tannins.
We are now expecting good autumn and winter rain to replenish the water table.
4) What was the best meal served during the harvest?  To finish the harvest, the traditional paella of end of harvest was of the same level: exceptional !!