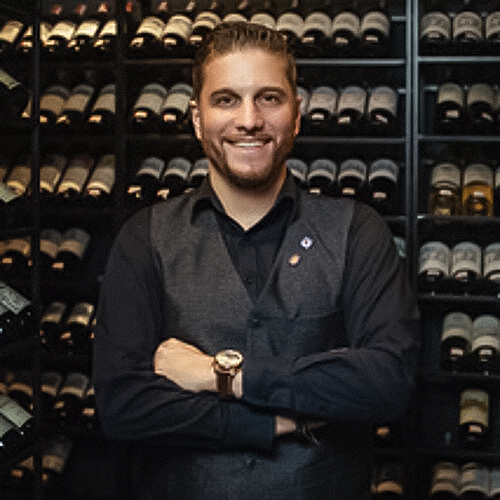 Where do you come from ?
I'm originally from a small village in Normandy, known as the "Queen of iodine", a land that is more famous for its apple trees than for vines.
What do you love in life?
I love to cook and share lovely moments around a meal, with my friends. In particular when people from different cultures find common grounds around food and the surprising pairings that wines from some parts of the world can create with foods from other parts.
What don't you like?
I don't like injustice and the lack of honesty
What do you enjoy eating and drinking?
Oh that's a tough question… Pretty much everything, I think. I am quite curious when it comes to trying foods and drinks. I enjoy equally a traditional meal with my family, with starter, fish, meat, cheese board and dessert (and the Trou Normand, a shot of Calvados and apple sorbet for digestion) and a bowl of Pho in the streets of Vietnam, where I live.
How did you end up working in wine?
It is not something that ran in the family, I fell in love with it during my studies in Restaurant Management at Ferrandi Paris. I discovered the cultural and historical aspects of what I believe to be much more than just a drink. I instantly loved the transversal aspect of wine, linking everyone and all fields together. One can approach wine through history, geography, art, science, food… Wine has no limits and connects people very easily.
What do you enjoy the most in your job?
I love being constantly in touch with very different people, who grew up in very different places. Places with their unique flavours and aromas that helped to build their personality. To have a chance to share this together, to discover similarities in all these differences, that's what I enjoy the most!
Can you tell me about a vintage or a wine that most impressed you?
It will definitely be the Domaine Rolet Trousseau in magnums, vintage 1988. First, because there is something magical and emotional in drinking a wine that is your age, but mostly because it is very unusual to find such a perfect balance between aromatic power and finesse, not relying on a very solid tannic structure. With undergrowth tertiary flavours and natural freshness, this balance paired perfectly with the Vietnamese meal we were having, where surf n'turf is quite common (pork and shrimps, chicken and fish sauce), making it more difficult for fuller-bodied wines with heavy structure to adapt.
What do you expect from a wine?
I am a huge fan of multi-layered wines that develop in the glass, where each sip is different from the previous or the next one. I like wines that are not too linear or "perfect", but with complex notes that are expressed in a controlled way to highlight the fruit. I am not always a huge fan of oak, at least I don't need it to make a great wine, although I think that when well-integrated, it adds an incredible dimension and depth to the wine. Overall, I like fresh and fruity wines, sometimes a bit spicy, without a very large and heavy tannic structure or extraction.