Bucerchiale 2012 – Decanter 95 pts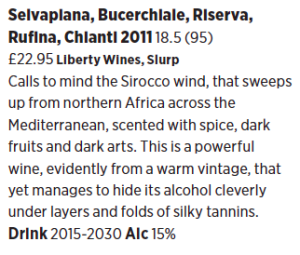 Emily O'Hare, journalist at Decanter and Tuscany wines specialist rewarded the Chianti Rufina Bucerchiale 2012 with 95 pts.
Bucerchiale first vinage was 1979, and when he made it, Francesco Giuntini confirmed his willing in producing only wines made of local grapes (here Sangiovese) and wines representing the Terroir they were from. Bucerchiale is named after the plot where the vines are planted, on a smooth slope with South East exposure, schistose soil and only massale selection plants.
Decanter, August 2015